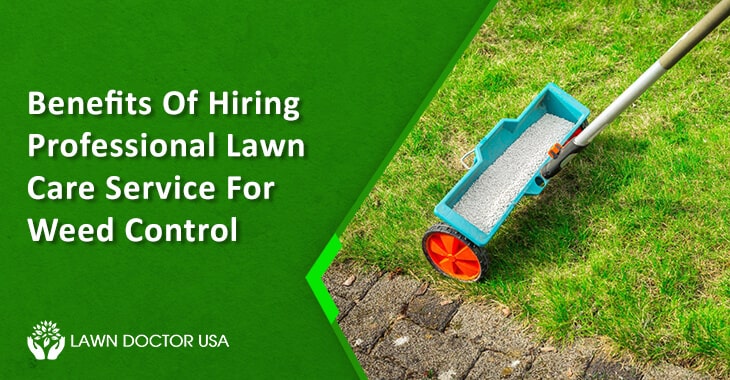 Reasons To Take Lawn Care Service For Weed Elimination
Lawn owners often fail to understand the parameters of weed growth. Either they misinterpret it as fungal growth or consider it to be undesirable for their lawn. They start using chemical products for elimination. Along with it, there are many other myths surrounding weed growth and control treatment. To avoid this misinterpretation, lawn owners turn to lawn care service companies to seek help in eliminating invasive weeds.
The lawn care professional team handles the process, but lawn owners need to know the process. As a lawn owner, you should know the techniques and practices professionals use for weed control. You must understand why it is important to hire them and how their presence benefits your lawn. In this blog, we will tell you the significance of professional weed control treatments and why you should take them.
What Are Lawn Weeds?
Lawn weeds are wild and unwanted plants growing in lawns along with green grass. Weeds offer no benefits and play no role in provoking lawn growth and making it visually appealing. Instead, invasive weeds soak nutrients and fertilizers from the soil and roots, hindering growth and weakening grass plants.
How Does Weed Invasion Impacts Lawn Health?
When weeds invade your lawn, they grow with healthy plants, competing with them to get water, air, and nutrients. They soak essential nutrients, making green grass suffer from nutrient deficiency. This competition makes the lawn drought-stricken and susceptible to life-threatening diseases, pest infestation, and fungal infections. Slowly, their growth takes over the lawn and replaces weeds with green plants and turf.
How Does Weed Invasion Affect Human And Pet Health?
Weed growth also impacts human and pet health negatively. Ragweed, Plantain, Ryegrass, and Pigweed may cause allergies and lead the body to asthma and other respiratory health hazards. Other weeds, including Poison Oak, Poison Hemlock, Buttercup, and Monkshood, can cause allergies and skin irritation in pets and humans. Pets might suffer from ill digestion if they consume it.
Why Hire Lawn Care Service Providers For Weed Control?
Common weeds growing in negligible amounts are easily manageable and cause no damage to the lawn. Lawn owners eliminate weed growth from time to time through regular lawn maintenance practices and mowing. However, invasive and aggressive weeds are a matter of concern for lawn health and safety. You must hire lawn care service providers to get rid of them and protect your lawn from losing its productivity and strength.
How Professionals Benefit Your Lawn And Eliminate Weed Growth?
1. They Use Reliant Products For Weed Control
You may fail to choose the right products for weed control or end up picking a less effective and unsuitable chemical. Your mistake will lead the lawn to more damage and make weeds more powerful. Whereas professionals know how to pick the right herbicides or weedicides to remove weed growth.
They are well aware of product ingredients and formulations. They know how it will impact lawn health and what equation they share with the grass type growing in your yard. They will choose the best suitable products that will maximize your lawn productivity and abolish weed growth.
2. They Choose Treatment Suitable To Grass Type
Not all techniques suit lawn grass. The choice of treatment method depends on grass type, soil composition, weather, and environmental conditions. Experienced landscapers know the correlation between technique and grass type. They carefully pick the most effective method for weed control that yields positive results without affecting lawn fertility adversely.
3. Professionals Conduct Soil Testing
Soil condition and composition play a key role in controlling weed growth. Infertile soil also offers a favorable environment to encourage insects, algae, and pests. The lawn care professional team conducts in-depth soil testing and provides treatment accordingly. They nurture the soil with adequate nutrient that helps abolish weed growth.
4. Experienced Landscapers Use Safe Sprays For Weed Control
There are organic sprays available in the market that not only eliminates existing weeds but prevents future invasion as well. However, being an amateur gardener, you may fail to reconize their composition and make the right choice. Professionals can identify these sprays and use them to keep the lawn weed-free.
5. They Ensure Proactive Lawn Maintenance
Many maintenance practices can eliminate weeds without taking the help of herbicides or sprays. Experienced landscapers are well aware of these maintenance techniques, and they use them to remove weeds and prevent germination.
These benefits are just the tip of the iceberg. Professionals bring many other advantages that cannot be described in words. You will only identify them after hiring professional lawn care and maintenance team.
Why Lawn Doctor USA Is The Best Company To Hire Experienced Arborists?
Lawn Doctor USA is a family of certified and experienced landscapers. Our professionals excel in providing proactive lawn care and maintenance. They are knowledgeable enough to identify the presence of weeds on the lawn. They test the soil and grass condition and customize effective treatments to control and eliminate weeds from your yard. You can hire them to get quick relief from the invasion.
Conclusion
Weed invasion can rob the greenery and production of your lawn once it starts prevailing the lawn. With the help of a lawn care professional team, you can prevent weed germination and invasion. They will help you limit the weed growth and stop it from taking over the lawn. Call us for your lawn care appointment today with our expert team!