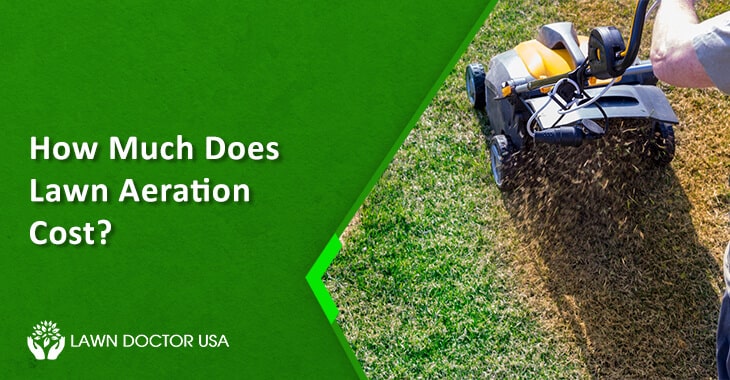 How Much Does Lawn Aeration Cost?
The yard is the main area where your family spends most of their time. For keeping your lawn look beautiful and fresh all year around lawn aeration is essential. It promotes soil drainage and makes your yard greener and vibrant.
Compacted soil easily breaks down with proper lawn aeration. It also promotes air, water, and nutrient to penetrate deeply. If you're considering lawn aeration for your yard, you may be wondering how much it will cost. Sometimes, your lawn needs some extra care to promote better growth and longevity.
In this blog, we'll discuss the average cost of lawn aeration services and what factors can influence the final price:
Professional Lawn Aeration Cost
Hiring a professional to complete your lawn aeration will require less time to do the job. Professionals can carry out lawn aeration with utmost precision and avoid mistakes like over-aerating.
Professional lawn aeration service usually costs between $15 and $18 per 1000 sq. Ft. On average, a ¼-acre lawn will cost $150-$180, while a ½-acre lawn may cost $300-$360. Prices may vary based on the size of the lawn. The price given is professional service for complete work.
Lawn Aeration On An Acre
The homeowner with a larger property area will get the quotes based on the number of acres they want to aerate. Let's take an example of the aeration costs per 1000 square feet. You will find the professional flat rate per acre.
The average Lawn Aeration Cost to aerate an acre is $700, and aerating jobs are between $600 and $800. Multiple acres are usually billed at the same cost per acre. You may also be able to get a discount on larger properties.
Overseeding Costs
After aerating the lawn, spread grass seeds on the already-established lawn. Overseeding helps to make the lawn thicker and fill the bare spots on your property. It can be expensive to add other services like core aeration. The cost mainly depends on the property size and is between $500 and $1500.
Factors Affecting Aeration Costs
It might seem a simple process, but estimating your lawn aeration costs involves several factors. Below we'll discuss the most important factors influencing lawn aeration costs.
Property size
Property size is the most significant factor when you calculate the aeration cost. Most professional lawn care companies price their aeration services based on property footage and acreage. To aerate, the company will probably need more time and effort. The average price per 1000 square feet is $15 to $17. And the average cost per acre is $600 to $800.
Location
Lawn aeration can have an impact in two ways. In areas with high living costs, lawn care services are more expensive. And secondly, your distance from the lawn care headquarters can affect the cost. Professional travel costs may include a maximum of $50.
Equipment
The type of equipment used for aeration can also affect the cost. Some companies utilize manual tools, which are less expensive but take longer to complete the job. Other companies use motorized equipment, which is faster but more expensive.
Frequency
Aeration is recommended at least once a year and sometimes twice a year for heavily used lawns. The more often you have your lawn aerated, the more it will cost.
Types of Aeration Method
Three types of aeration methods can work for your lawn. Each aeration method has its positives and drawbacks. But all methods work to loosen the soil and provide compactness in the soil. Let's discuss those three aeration methods.
Spike Aeration
It is simple and less expensive. Spike was driven on the lawn to make small holes to loosen the soil.
Liquid Aeration
It involves an ammonium lauryl sulfate solution that naturally loosens the soil. The cost of liquid aeration is slightly higher than that of aeration.
Core Aeration
This involves pulling the small plugs out of the lawn. This process loosens the soil and promotes natural fertilization via decomposition.
Is Aeration Worth It For Your Lawn?
Absolutely, it benefits your lawn. Lawn aeration helps to reduce soil compaction. The lawn service will add $ 150 and $180 to the maintenance cost. It facilitates grass with sufficient air, nutrients, and water to grow and thrive. The aeration cost is more affordable than paying for weed treatments and other services to maintain the grass healthy.
Conclusion
Lawn aeration is an essential service as it significantly improves the health and appearance of your lawn. While the cost of lawn aeration services can vary, you can expect to pay anywhere from $600 to $800 for professional services for an acre.
Where DIY lawn aeration is possible, but most homeowners prefer a professional. Renting equipment may cost more compared to professional lawn care. Factors such as lawn size, frequency, equipment, and location can all affect the final price. Transform your lawn into a lush, green oasis with Lawn Doctor USA and schedule your lawn care service today!
Whether you choose to hire a professional or do it yourself, aeration is an essential practice to maintain the health of your lawn for a long time.