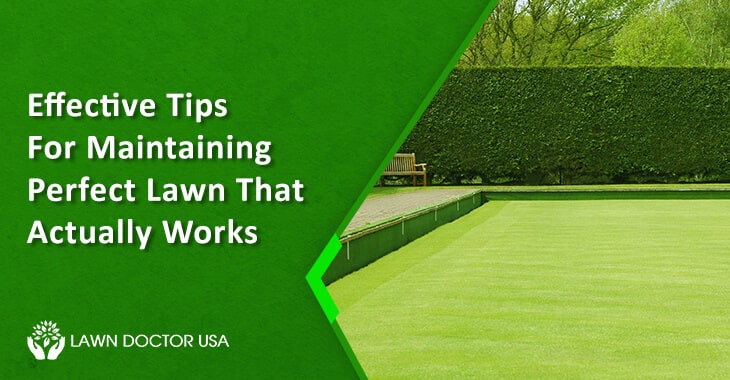 Effective Tips For Maintaining Perfect Lawn That Actually Works
A well-manicured lawn is more aesthetically pleasing than a neglected one. Lawn care will benefit during property selling because the green space will attract potential buyers. Along with it, lawn maintenance keeps the grass healthy, making it more resilient to disease and pest attacks.
However, to reap advantages, it is important to keep up with regular maintenance. Lawn care is not an easy practice but a daily task that requires attention, and hard work. Practices like lawn mowing, edging, weed control, aeration, and fertilization play a key role in propelling lawn growth.
These are just the tip of the iceberg because lawn maintenance in Rancho Cucamonga is wide and hard. It takes a lot to perfect your lawn and retain its vibrancy and vigor against all odds. However, you can do it with effective and fruitful techniques. Here are some significant tips for perfecting your lawn.
1. Focus On Lawn Mowing Techniques
Lawn mowing is one of the most important aspects of yard maintenance. Routine mowing keeps it neat, attractive, and well-organized while stimulating healthy growth.
Follow this process to perfectly mow your lawn.
Clear debris, sticks, and dead leaves before running the lawn mower. The step prevents clumps of grass from being pulled up by the mower blade.
Adjust the mower blade to the proper height according to the grass type. The step will ensure ideal grass length and help you avoid over-mowing.
To finish the process, mow the grass in straight lines, going over each lawn section until you complete lawn mowing.
2. Follow The Right Methods For Lawn Irrigation
Adequate irrigation ensures the survival of lawn grass and plants while maintaining a green, lush appearance. Use these tips while irrigating your yard.
First and foremost, use an automated sprinkler system for proper watering. Make sure your lawn is receiving water in the appropriate quantity.
Water your lawn infrequently but for an extended period. Water more during summer and less during spring and winter seasons.
The frequency depends on the weather, local climate, and soil conditions. Less irrigation will make the lawn dry and brittle. Excessive water will lead the lawns to problems like fungal growth and root rot.
Follow deep watering methods to transport water to the roots. The practice prevents water evaporation and builds better drought resilience.
3. Boost Growth Through Lawn Feeding
Lawn feeding refers to applying fertilizers and adding essential nutrients that boost plant and grass growth. It helps retain soil moisture that benefits the lawn during dry spells. The practice has a straightforward strategy which is as follows-
To start with the process, determine the type of fertilizers according to your lawn requirements. The choice depends on grass, plants, and soil type.
After choosing the appropriate type, apply it to your lawn to stimulate new growth. Spread it over the entire area or in specific spots where your plants need extra nutrients.
4. Practice Lawn Aeration For Soil Nourishment
The thatch layer restricts water and nutrient penetration and stops them from reaching grass roots. Lawn aeration eliminates the thatch layer, breaks soil compaction, and regulates penetration. It is among the best practices for lawn maintenance. Here is how you need to perform it.
Irrigate your lawn before proceeding with the practice.
Use a special machine or lawn aerator to dig tiny holes in the soil. Punch holes about two to three inches deep and two to four inches apart.
Remove soil plugs, and spread compost or topsoil to fill the small holes. Water the lawn to wipe the excess layer of compost and help the lawn settle the process.
Take lawn service in Rancho Cucamonga from Lawn Doctor USA to aerate your lawn if you fail to practice it efficiently.
5. Fill Patchy Spots Through Lawn Overseeding
Lawn overseeding is a process of planting grass seed directly over the existing grass. It reseeds patchy areas, stimulates growth, and thickens lawn turf. Follow these steps for lawn overseeding.
Mow your lawn before starting the process. Cut the existing grass, remove debris, and clean the area.
Add a layer of topsoil and spread the grass seeds across the surface. Rake the seeds lightly and add a layer of mulch for protection.
Water the lawn until the grass has taken root. Fill the bare patches or introduce new grass species more suitable to the local climate and environment.
6. Hire Professionals For Yard Maintenance In Rancho Cucamonga
Yard maintenance does not end with these practices, and you cannot learn all techniques. We advise you to hire professionals for controlling and treating weed growth, pest infestation, and lawn disease. Experts will help you with other complex processes like soil testing, lawn seeding, replantation, and damage protection.
How Can Lawn Doctor USA Help With Yard Maintenance In Rancho Cucamonga?
Lawn Doctor USA is a premier provider of lawn service in Rancho Cucamonga. We have a devoted and hard-working team ready to handle complex practices concerning lawn care. Our team is committed to ensuring customer satisfaction, so they pay attention to each technique and execute it perfectly. Our team is the best choice for ensuring the well-being of your precious yard.
Conclusion
Lawn maintenance is hard to practice and master, especially for amateur gardeners. However, if you work hard to manage your yard, then your continuous attempts will bear fruit. You will achieve success in perfecting your lawn and retaining its beauty, greenery, and prosperity forever.