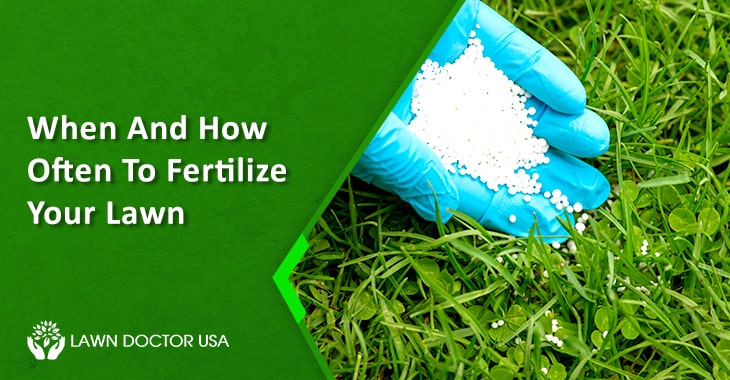 When And How Often To Fertilize Your Lawn
Lawn fertilization fulfills the micro-nutrient requirements of soil and plants. It contains prime components, including Nitrogen (N), Phosphorous (P) & Potassium (K). Among these, Nitrogen is essential for promoting leaf growth, Phosphorous supports root development, and Potassium aids in water and nutrient absorption.
However, the lawn fertilization process is a mixture of art and scientific techniques. You may think you are working in the right direction, but the result will be surprising and unexpected. Most of the time, unskillful gardeners fail to understand the practices. They don't know how to fertilize lawns and choose the right type, combination, and quantity.
In the absence of accurate information, they make small mistakes that lead to severe damage in the future. Our lawn fertilization company experts have trained amateur gardeners and helped numerous lawn owners with the process. We are sharing our knowledge of the practice to help you understand it better.
Basics Of Lawn Fertilization
Lawn fertilizers are a vital ingredient to stimulate growth and nurture the soil. Like humans need food to survive, in the same way, soil and vegetation need fertilizers to stay healthy. It involves materials that contain micro-nutrients, Nitrogen, Phosphorous, & Potassium, Zinc, and other metals.
Mainly fertilizers are divided into four categories. Such as slow-release fertilizers, fast-release fertilizers, starter fertilizers, and weed & feed fertilizers. Different types of grass and soil demand different fertilizers to flourish.
Choosing the wrong type can cause more harm than good, but it solely depends on grass & soil type and lawn condition. The decision may confuse you, so consider approaching professionals. You can take the help of lawn fertilizing service providers to decide the fertilization type.
Types Of Lawn Fertilizers
As we told you before, fertilizers' selection depends on soil and grass type. You need to test yard soil and inspect the grass type to determine the fertilizer type. After doing it, consider the below-written characteristics of fertilizers to make the final decision.
1. Slow Release Fertilizers
Slow-release fertilizers slowly facilitate plant and root growth. They launch micro-nutrients and microbes according to soil temperature and condition. It steadily releases components, fulfilling soil appetite for a long time. You can choose from controlled-release fertilizer, granular fertilizer, liquid fertilizer, and natural & organic fertilizers after testing your soil.
2. Fast-Release Fertilizers
Fast-release fertilizers quickly release Nitrogen and other micro-nutrients into the soil. Your lawn may experience rapid plant and root growth due to the boost. Sometimes, it releases an excessive amount that leads to overgrowth. Hence, the fertilizer type is most suitable for barren lands, drought susceptible landscapes, and new lawns. You should evaluate its pros and cons before choosing it or consult a lawn fertilization company.
3. Starter Fertilizers
Starter fertilizers mostly benefit in the winter season. They help the lawn thrive in cold regions and wet soil. The type introduces Phosphorus in the excess quantity that stimulates root development. However, they may not suit the lawn in summer months or affect it negatively in hot climate areas. You must check the climate, temperature, soil, and grass prior to application.
4. Weed & Feed Fertilizers
Apart from offering micro-nutrients, these fertilizers also help to control weed growth. The type is ideal for weed-affected lawns as it helps eliminate weeds while enhancing resistant power. However, avoid using weed and feed fertilizers on new grass as it may hinder seed germination. We suggest you pick the type carefully according to your lawn requirements.
When And How To Apply Fertilizers On Your Lawn?
Fertilizer application is a tricky process that requires keen attention, knowledge, and experience. You may feel confused while selecting the fertilizer type and combining them with soil in the appropriate quantity. You can approach a lawn fertilization company for help. If you have prior experience, then follow these steps-
Spring is the best season to fertilize your lawn. Check lawn soil temperature using a soil thermometer and analyze humidity in climate. Plan the lawn fertilization process if the temperature is coming around 55º Fahrenheit. Your lawn will start flourishing after a few days of application. The first application should take place in mid-April.
While purchasing fertilizers, notice the percentage of Nitrogen, Phosphate, and Potassium. For example, if the bag displays 20-5-10, then it has 20% Nitrogen, 5% Phosphate, and 10% Potassium which is an appropriate combination. Apart from it, the bag contains filler materials like compost, soil, sand, etc.
Choose a lawn spreader to effectively fertilize your lawn. Fill your lawn spreader with fertilizers after setting the hole size in the hopper according to the requirement. Close the hopper to continue the process. While spreading fertilizers, create header strips around the lawn edge to start and stop the spreading.
Always push the lawn spreader in a forward direction and take moderate steps. Avoid dragging it behind because it may release extra quantity. Keep the hopper chute open until you finish the process, and turn it off when you finish it or stop making turns. At last, clean the lawn after a while and irrigate it to wash off excessive fertilizers.
Try using slow-release fertilizers if it suits your grass and soil type. They slowly break down micro-nutrients and protect soil health for a long time. By using slow-release fertilizers, you can fertilize your yard in six to eight weeks rather than every four weeks. However, make sure to follow the irrigation routine for smoother application.
After the first application, keep a gap of at least four weeks from the next application. Frequent and early application will lead the yard to overgrowth. Plan at least five applications within a year, starting from April to the next spring. You can schedule the rest applications in a gap after measuring the result of the previous application. To gather more information, you should seek guidance from a lawn fertilization company.
How Can Lawn Doctor USA Help You With Lawn Fertilization?
Lawn Doctor USA is a prominent lawn fertilizing service provider having a decade-long experience working in the industry. We offer professional assistance for yard fertilization. Our lawn care experts are well-versed in the techniques, and they know how to pick suitable fertilizers for lawn soil and grass. Reach out to our experts to take the service.